In 917, the United States declared war on World War I, and many American soldiers were forced to join forces and march on a French battlefield across the Atlantic. At that time, the Salvation Army, a Christian charity, also sent a team to join the army. And in the army, they reported that the rations of American soldiers were generally very weak, and that many soldiers wanted to eat freshly cooked food. So Margaret Shelton and Helen Purvians, the two most prominent personnel in the Salvation Army at the time, came up with the idea - why not make a few donuts for everyone?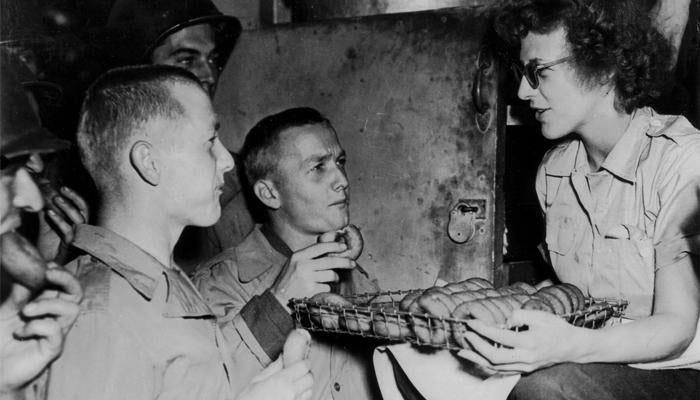 This ease of eating - cooking - satisfied the hungry hearts of soldiers who needed solid food each day in the early stages of the war that caused widespread epidemics. Volunteers built "forts" in abandoned military zones, and soldiers walked the ruins every day to make "um" donuts. When supplies fell, volunteers used the bottles to distribute the cake, collect temporary helmets, and make donuts.
All of the Donut Masters volunteers were women, so the military named them "Donut Girls" after people who had been lightly connected in some battles. The initial performance is low. They earn just over a hundred dollars a day. As the population and creativity grows, their production slowly increases to thousands every day. When she was busy, she was a "donut girl." "You can make hundreds of donuts a day."
In 1938, the Chicago branch of the US Salvation Army used the visit for the first time as a charity fundraiser. Since then, every year on the first Friday of June there is a war in honor of the contribution of "donuts" during the war. This is the "National Donut Day" among Americans. During World War II, Red Cross volunteers inherited the nickname "Donut Girl" and continued the tradition of making and serving donuts in military zones. "The donuts will help us win the war!" Shouted the soldiers. This little donut and the volunteers behind it played a key role in boosting morale.