sprintmachinery.com
Regular price
Sale price
$480.00
Unit price
per
Sale
Sold out
batch coding machine
Instructions:                                                                                           
    Marking machine, also known as rapid ink wheel code printer, use a separate machine, mainly used for paper bags, paper labels, plastic bags, plastic labels and printed on thin paper production date, batch number and other identification.   With automatic sub-sheets, automatic counting, automatic positioning and high-speed coding features.   This machine adopts advanced solid ink, with instant printing and instant dry, easy to erase the excellent performance, especially for paper, plastic film, aluminum foil bags and other non-absorbent materials and paper packaging production date code.
Features:                                                                                                 
1) Solid ink coder is an advanced contact-type thermal coder. The machine automatically intermittent heating and precision mechanical combination, according to user needs, choose a code content and coding position, and set the number of sheets of play yards play yards fast, reliable, clear writing, playing action code and count using photoelectric switch control.
2) The aircraft structure, stainless steel structure, photoelectric control, automatic counting, and the preset number and location of charge sheets.
3) The use of advanced solid ink printing, writing clear, instant printing and instant dry, easy to erase.
4) The ink marking machine is widely used in medicine, food, cosmetics, hardware and other labels, plastic bags, date, batch number, expiration date printed a variety of industries such as flexible packaging cartons, paper, plastic bags, aluminum foil and other materials surface coding.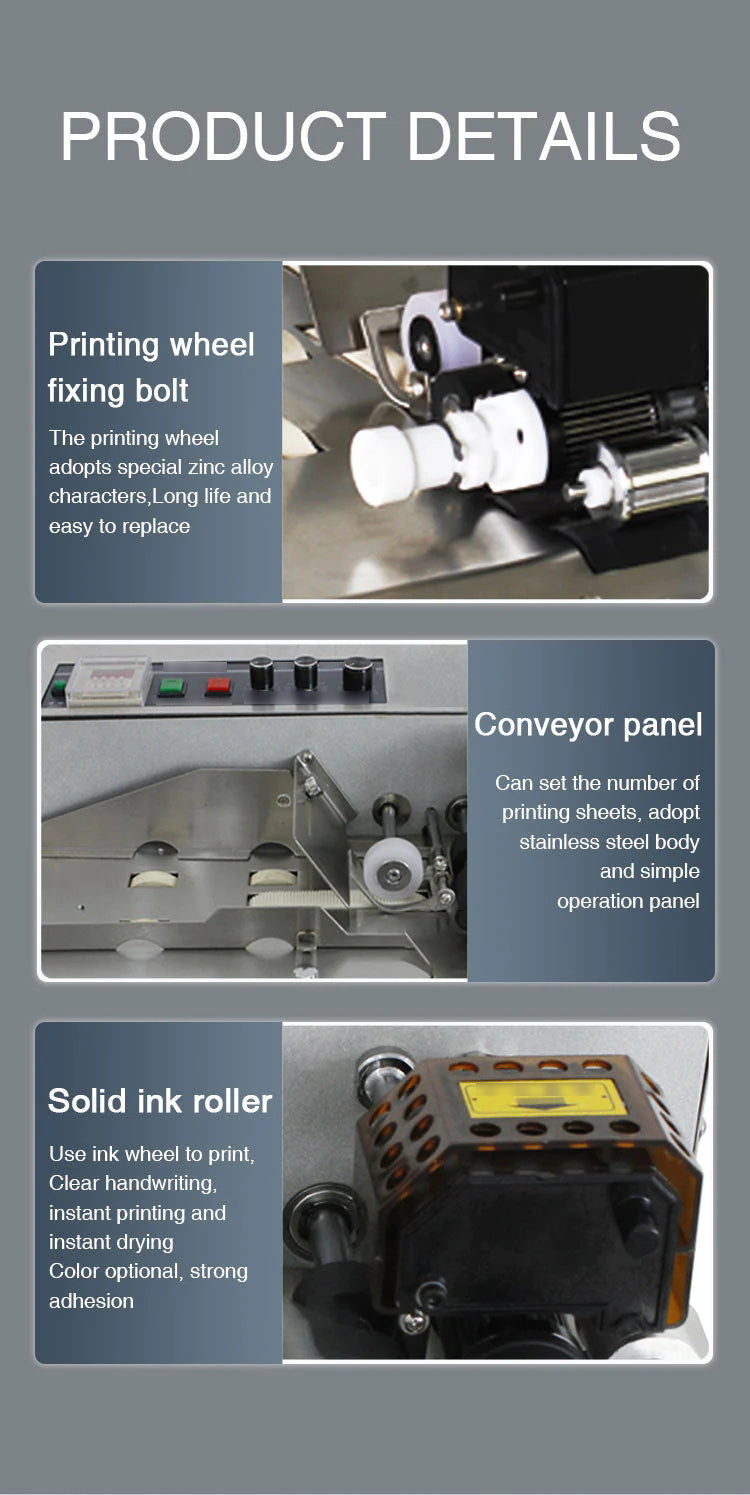 MY-380

Voltage

220V/50Hz

Power

180W

Solid ink wheel size

35 * 15 mm (combination)

The highest printing speed

300 times/min

Min suitable size

50 mm* 30mm(L×W)

Max suitable size

500 mm * 190 mm(L×W) 

widen model: 500x380mm

Most printing lines

R: 5 lines, T: 8 lines

Font size

2.0mm 2.5mm 3.0mm (chooesable)

Dimension

440 * 345 * 260 mm

The weight

 23 kg
 batch coding machine
Share
View full details